Speakers
---

Han Fuling
Dean, Department of Applied Finance and Professor in Finance, Central University of Finance and Economics

Fuling Han is a professor in finance and currently dean in the department of applied finance in Central University of Finance and Economics. He has been teaching courses including investment banking, financial markets, security investment, and venture capital, amongst others. Han is also titled expert in the research bureau, People's Bank of China, financial advisor at ICBC and BOC, and independent director in a listed company. Han has accomplished twelve CSS major programmes at a ministerial level, among which the program "Research on the Reformations in Investment and Financing" has been awarded first prize by the State Commission for Economic Restructuring. He has in the past been invited to speak by financial media such as CCTV and China National Radio.
---

Xiang Songzuo
Economist, former chief economist of Agricultural Bank of China

Xiang Songzuo is a renowned economist, former chief economist of Agricultural Bank of China, Board member and deputy head of International Monetary Institute of Remin University of China, deputy chairman of Official Monetary and Financial Institutions Forum (OMFIF) advisory board.He is also advisor of the International Monetary System Reforms Panel of World Economic Forum, and Special financial commentator of CCTV.He has written many books including The New Capitalism,Financial Crisis and National Interest, and Towards Market Economy.His books and articles have won the Chinese National Book Awards, Top Ten Economic Books by the Economic Daily and Outstanding Books for Colleges and Universities.
---

Hwa Erh-Cheng
Chief Economist, Baoshang Bank
Hwa Erh-Cheng is chief economist at Baoshang Bank. Prior to this he served as chief economist at China Construction Bank, as well as in several departments of World Bank including the residence mission office in China, and economist at the International Monetary Fund. Earlier he pioneered research of a monthly econometric model of the US economy at Cornell University and the national bureau of economic research. He also served as chairman of Wuxi and Qunshang high-tech science park, advisor for the governor of China's Guangdong province, and taught at Peking University, Beijing Normal University and Shih-Hsin University as visiting professor.
---

Wu Weiye
Member, Credit Committee of Bank of China 
Wu Weiye is a full-time member of credit committee of Bank of China. He joined Bank of China in 1985 and held several key positions in the bank including his appointment at Bank of China Tokyo Branch from 1997 to 2002 and 2005 to 2010. He also worked in Bank of China Hong Kong in 2003. He also played a crucial role in the founding of the Export-Import Bank of China in 1993. Wu writes regularly for different journals on topics like Studies of International Finance and Abe's Political Economics.
---

Wang Lei
Deputy General Manager, Retail Banking, CITIC Bank

Wang Lei is the deputy general manager of retail banking at CITIC Bank. He has been engaged in retail banking for more than 10 years. Prior to his position, Wang has served in two of the leading joint-stock commercial banks and has held key positions while managing the branch network. He has vast experience in areas such as wealth management, cross-industry marketing via internet, productivity enhancement in branches and branding.
---
Cartier Lam Chi-man
Deputy Chief Executive,Bank of East Asia (China)

Cartier Lam Chi-man possesses nearly 30 years of experience in the banking industry. Before assuming the role of deputy chief executive, he held several other key posts within Bank of East Asia (China) Ltd. He is currently the in-charge of financial control, HR, strategic planning, bank investment, marketing & communications. He is also the spokesman for the Bank. He is currently a member of CPPCC Huangpu District, Shanghai; standing committee member of the Shanghai Huangpu Overseas Chinese Friendship Association, member of CPPCC Dalian and is appointed as an overseas economic advisor to the Dalian Municipal Government. He also remained executive committee member of banking associations of Dalian & Xiamen.
---

Tao Rong
GM, Personal Banking, China Zhejiang Bank

Tao Rong is the GM of personal banking at China Zhejiang Bank. He is actively involved in several professional associations including the China User Experience Association (UXPA) as chairman and Chinese Ergonomics Society (CES) as Director. Prior to joining Zhejiang Bank, he worked on several key posts in organizations like Ping An Group, Ali Baba, Samsung Electronics and Nokia. He has over 7 user experience related patents in computer interaction across US, Europe, China and several other countries. His research work on mobile and internet banking has been widely acknowledged by the industry
---

Alex Medana
CEO, WIP Solutions, Risk & Compliance Expert, Start-Up Advisor & Investor
With 17 years of relevant experience in the securities industry, Medana has held a number of key management roles in global tier 1 financial institutions in operations across various asset classes, client segments, business lines and locations particularly in post-trade. His front-to-back knowledge of regulations, inner workings of banks, brokers and buy sides with his uncanny drive for simplification through a lean methodology approach is a great asset to take start-ups from concept to market. He is currently developing ecosystems on the blockchain to improve risk and controls whilst cutting costs and generating revenue.
---

Lu Tongbo
Vice President, Banking Business, Tongdun Technology
Lu Tongbo is the vice president of banking business at Tongdun Technology. With more than 20 years of experience in the IT industry, he has served several local and international firms including Compuware Software, Sysbase, Aspect Software and Boyasys. He was responsible for business development, operational planning and marketing strategies and successfully led the teams to expand and achieve steady growth in the Chinese market.
---

Ray chou
Principal, Greater China Financial Services Practice, Bain & Company

Ray chou is working as principal of the Greater China Financial Services Practice for Bain & Company. He has extensive experience across the areas including strategy, wealth and asset management, Fintech, NPS, performance improvement, business model design and organisational transformation. Chou has recently led multiple innovative projects in wealth management and asset management in the context of digitalization trend in China.Before this role he worked with MasterCard as head of business development.
---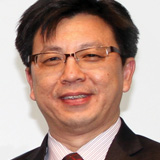 Foo Boon Ping
Managing Editor, The Asian Banker
Boon Ping manages the Asian Banker publication business and engages practitioners, customers, partners and media on critical issues that impact the industry. He has more than 19 years of experience in the banking and financial services industry, specializing in strategic branding, marketing communications and consumer insight. Prior to The Asian Banker he was at United Overseas Bank (UOB), covering Singapore and key markets in the region, such as China, Indonesia, Malaysia and Thailand.
---

Hugh Qing Yun Zeng
Research Manager, The Asian Banker
Hugh Zeng recently joined the Asian Banker as researcher manager where he covers risk management as well as China related research. Prior to joining the company's China office, he worked for American Express in Singapore. Zeng has also been an investment operations officer at OCBC Bank, where he gained exposure to operations and technology, product, and project management in the areas of QFII, QDII, and wealth management. He was instrumental in helping OCBC build its QDII platform in 2011.He started his career with HSBC where he held the positions of product specialist, xwealth management operations associate and settlement analyst.