Venue Information:
Eko Hotel
Victoria Island,
Lagos, Nigeria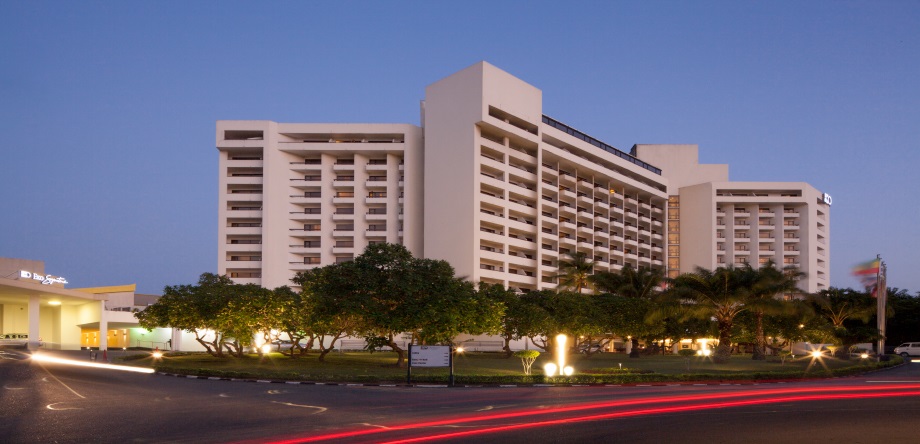 Established in 1977 as Èkó Holiday Inn and built on Victoria Island, it is the largest hotel in Nigeria. The Hotel comprises 825 rooms and suites in four multistory buildings, clad in white with views of the Atlantic Ocean and the Kuramo Lagoon.
The hotel is strategically positioned next to the financial centres of Lagos Island: Victoria Island, (the most important business and residential district of Lagos) but shielded from the hustle and bustle of the metropolis. The hotel overlooks scenic wetlands such as the Kuramo Lake and the Atlantic Ocean. This location also proffers many room options with varying views of the sea and panoramic views of the city which has attributed a description of the hotel as an Environment of Aquatic Splendour. The hotel's support facilities and convenient location allows easy access to leading companies in sectors as diverse as banking and finance, oil and gas, telecommunication, the diplomatic corps and international organizations. Eko Hotels & Suites has a sister hotel in Port Harcourt named Hotel Presidential.
Eko Hotels & Suites has the largest Convention Centre in Nigeria.Events that have taken place at the hotel include; concerts, movie premieres, international exhibitions, weddings, conferences and ceremonies. The Convention center is usually used for these events and can cater to 6,000 people.
Location Map